Books
The Seven Year Bitch
Now in Paperback!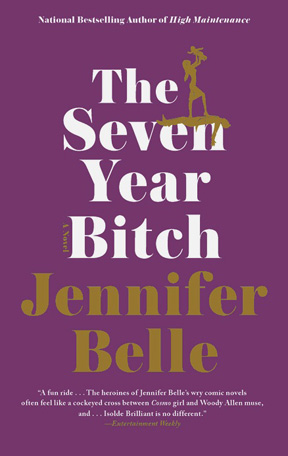 Hardcover Edition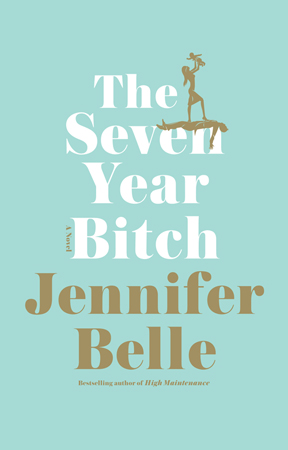 "A fun ride...The heroines of Jennifer Belle's wry comic novels often feel like a cockeyed cross between Cosmo girl and Woody Allen muse, and...Isolde Brilliant is no different. [Isolde] flirts with infidelity and navigates satiric set pieces (fertility-challenged nannies, bad playdate mommies) like a Baby Bjorne-toting Alice in a kook-infested Wonderland."
—Entertainment Weekly

"With a dry, witty tone, Belle takes a close look at young marriage teetering on shaky ground."
—More

"Belle's smart and hilariously ridiculous paean to love, marriage, and a baby carriage proves you can't always get what you want and you rarely get what you need, but you always get to choose. There are plenty of laugh-out loud moments that come uncomfortably close to the truth about less- than-perfect relationships. Belle doesn't disappoint."
—Publishers Weekly

"Brutally honest and a little outrageous — she loves the smell of her baby son's dirty diapers and dreams of sex with the grim reaper — Isolde has grown increasingly disillusioned with marriage. Belle has once again invented a hilarious heroine."
—Kirkus

"[A] funny, sometimes surprising, and ultimately uplifting novel...This book has many laugh-out-loud moments...The ending makes the entire book worthwhile."
—Sacramento Book Review

"Genuine laugh-out-loud moments."
—Booklist
That night we lay in bed talking about the water cooler...I hadn't heard us this excited about anything in a long time. Not since our conversations about Duncan when he was first born. In fact, I couldn't help but wonder if we were more excited about the water cooler than we'd been about Duncan. What had our life become, I wondered, if we needed something like Poland Spring to bring us together?
What's a fabulous New York City girl supposed to do when she finds herself fantasizing about the grim reaper more than she fantasizes about her husband? When she can't help but give him the finger on the set of Sesame Street? And when she doesn't exactly hope for a safe landing when he goes away on business?
No, ex-hedge fund manager and new mom Isolde Brilliant hasn't got the seven-year itch — taking care of her baby and husband and having a growing suspicion that she's living life in captivity has turned her into a seven year bitch.
That's New York author Jennifer Belle's deliciously provocative phrase for the boredom, anger, and hurt that can creep into even the best of marriages — and affect even the most saintly of wives. Belle delivers a dead-on, raw, and hilarious novel about motherhood and marriage, and discovering the life you have is exactly the one you wanted.
Watch the book trailers on Youtube!
Buy Now:
Amazon/ Barnes & Noble/ Borders/ IndieBound
Little Stalker
Published May 2007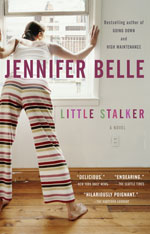 "An offbeat, surprisingly sweet story about voyeurism, celebrity, obsession, and writer's block...Little Stalker is a treat — hilarious, richly textured, subtly insightful, and undeniably twisted."
—The Boston Globe

"A smart and hilarious read; you'll fall in love with Belle's neurotic heroine."
—People

"Delicious."
—The New York Daily News

"Rebekah's twisted and tender tale will keep you hooked to the last page."
—Cosmopolitan

"Hilariously poignant."
—The Hartford Courant

"Compulsively readable...Little Stalker is an affecting meditation on the connections we make--with others and with ourselves — as we age, from a writer whose work is maturing quite beautifully."
—Salon.com

"Endearing."
—The Seattle Times

"In eccentric Rebekah, Belle has created another unforgettable narrator – funny, self-absorbed, a little damaged – and never predictable."
—Kirkus Reviews
Rebekah Kettle is obsessed. Not with her quirky, adoring paparazzo boyfriend or the gossip columnist who wants to be her new best friend, but with someone she's never even met — cult fillmmaker Arthur Weeman. For twenty years, she has looked forward to seeing Weeman's newest release every fall, and she's tracked his movements around New York City. But this year, when the window of an Upper East Side apartment provides her with a scandalous view into Arthur Weeman's life, Rebekah has to decide: does she give her new love the scoop of a lifetime — a photo of the compromised Weeman, or does she remain loyal to the man whose films have defined her life? Bold, daring, and deliciously twisted,
Little Stalker
is a hilarious story of voyeurism, obsession, and relationships — both real and imaginary.
Buy now:
Amazon/ Barnes & Noble/ Borders/ IndieBound
High Maintenance
Published May 2001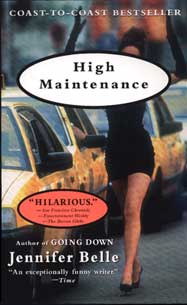 "Just when it seemed that Jennifer Belle had masterfully captured the single-girl experience in her widely praised first novel, Going Down, here comes High Maintenance, the tale of a very different but no less engaging young woman flying solo in the Big Apple...Razor-sharp, deadpan observations and dazzling prose—by turns utterly hilarious and heart-wrenching."
—San Francisco Chronicle

"Irresistible."
—Newsday

"A hilarious take on the search for real estate as a metaphor for finding a life."
—Boston Globe

"An outrageous, hilarious account of one woman's journey to find herself, the 'Loft of her Life,' and a man worthy of sharing apartment space with in New York City...High Maintenance is in turn a wicked and twisted coming-of-age-in-the-city story, an uproariously funny tale of the little girl lost and a scathing parody of the narcissism of New York living."
—Tampa Tribune

"Addictive and captivating...The same wisecracking, fierce yet vulnerable point of view that made Going Down so special is taken even further in High Maintenance."
—Time Out New York

"Just buy the damn book."
—The New York Observer
There's a new property on the market.
And she has great potential.
Liv Kellerman has just left her cheating husband and — more tragically — their fabulous duplex with its Empire State Building views. Now Liv — alone for the first time in her life with few marketable skills, and crammed into a crumbling "fixer-upper" in Greenwich Village — is contemplating her next move.
Buy now:
Amazon/ Barnes & Noble/ Borders/ IndieBound
Going Down
Published July 1996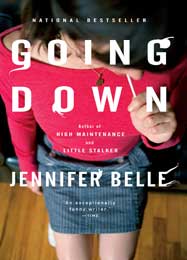 "Imagine Holden Caulfield's sister, Phoebe, growing up and turning tricks to study acting, and you have Bennington Bloom…Alternately vulnerable and self-possessed Bloom is the main attraction of this book, but there are others: a riveting plot with menacing undercurrents and creepy details, a cast of colorful minor characters, and a happy but not sappy ending. Going Down is loaded with comical ironies…a wonderful, aberrant, compulsively readable first novel: A."
—Entertainment Weekly

"Jennifer Belle is an exceptionally funny writer."
—Time

"Belle combines very funny, sharply written prose and a superb grasp of narrative in her debut novel…The arresting combination of her caustic wit and insightful observations make for a wickedly hilarious sense of humor evoking Dorothy Parker…Belle's riotous, vivid debut has the energy and gritty appeal of New York City itself."
—Publishers Weekly

"A funny, sad, nasty little gem of a novel."
—Jay McInerney

"A kind of twisted version of Gentlemen Prefer Blondes…Delightfully, sickeningly, hilariously enthralling."
—Tama Janowitz


Bennington Bloom is working her way through college. As a call girl.
Afterwards, I always say, "You've got a great body." Or if there is no way that is plausible, I say, "You've got great hair," and if even that's stretching it, I say, "I love your mustache," or "Your skin is so soft." Sometimes I just say, "Nice apartment."
Buy now:
Amazon/ Barnes & Noble/ Borders/ IndieBound
Animal Stackers
Children's Book
Published March 2005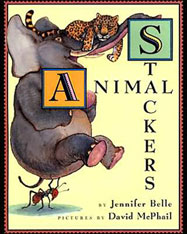 "Animal Stackers is wonderful entertainment. It's a sort of book-game that brings back an old tradition of acrostic and does much to develop a child's sense of language."
—Vladimir Radunksy

"Jennifer Belle's witty, charming, clever, and surprising acrostic poems are a rich contribution to the alphabet book canon."
—Anita Lobel
When you stack the letters of the alphabet, you make words. When you stack words, yoiu can make poems. And when the words are cleverly paired with quirky animals, you have
Animal Stackers
, a whimsical collection of poetry that blends genres in an unforgettable way.